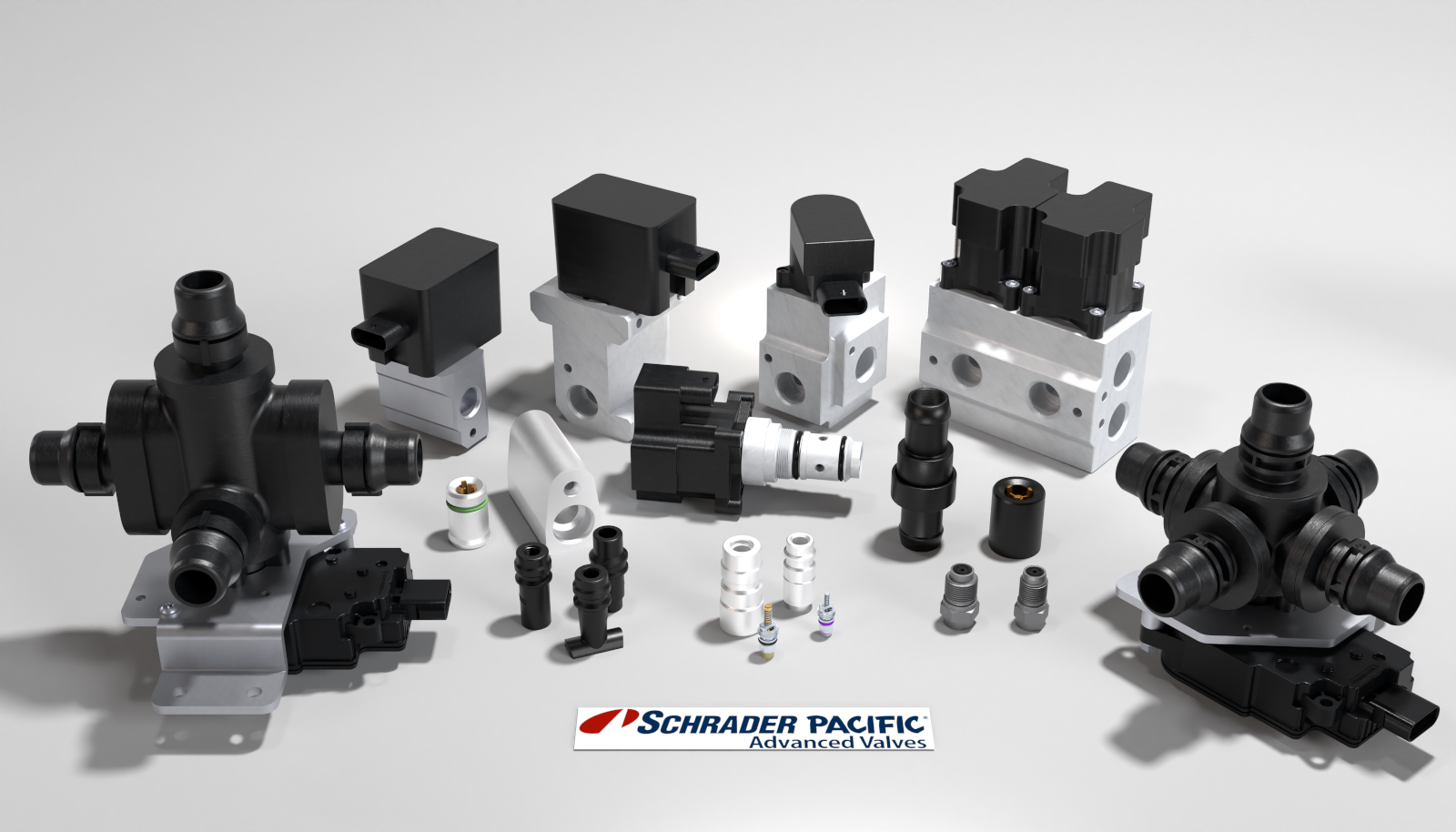 Refrigerant & Coolant Control Valves
Schrader Pacific Advanced Valves is the European division of Pacific Industrial Company, an industrial group headquartered in Japan with more than 4,800 employees worldwide (EU, Asia, America) and with a turnover of 1.3 billion Euros.
Schrader Pacific Advanced Valves designs and manufactures fluid control devices since 1898 that improve safety, system efficiency and comfort of vehicles every day.
Delivering Millions of highly engineered valves to the automotive industry, Schrader Pacific Advanced Valves has developed a specific know-how on fluid control technologies and pressure management for a large range of fluids such as air, air conditioning gas, fuels, ammonia, hydrogen.
Whatever the pressure and temperature, Schrader Pacific Advanced Valves has the abilities to handle numerous functionalities such as sealing, dosing, pressure calibration and regulation thanks to Thermal Management Valves products like filling valves, pressure relief valves, check valves and expansion valves as well as flow control valves.
Thanks to our knowledge in fluid behaviour, Schrader Pacific Advanced Valves has developed a large range of reliable and innovative components in order to support emerging customer needs linked to new Electric Vehicles Thermal Management with a comprehensive solution portfolio that brings its humble contribution to the current great stake of cleaner mobility.
Customized Fluid Control Solutions for Thermal Management of Electric Vehicles by Schrader Pacific Advanced Valves are found on both air conditioning and cooling circuits
Refrigerant circuit Thermal Management devices such as :
Coolant circuit Thermal Management devices such as :
Innovative Fluid Control Solutions Design at Schrader Pacific Advanced Valves
To design and manufacture Thermal Management control devices, Schrader Pacific Advanced Valves can rely on its 110 R&D engineers equipped with virtual prototyping tools covering Fluidic, Mechanic, Thermal and Electromagnetic simulation and several laboratory testing equipment for mechanical, environmental and tightness validation.
Development Software such as :
Inventor: for CAD design
Mechanical: for FEA simulation
CF Design: for fluid simulation
Moldflow: for plastic injection simulation
Matlab Simulink suite: for data analysis and algorithm development
Laboratory Validation benches such as :
Climatic and hydrometric chamber
Salt fog test chamber
Thermal shock test chamber
Ozone chamber
Traction bench
Vibration bench
Elastometer
Durometer
Helium leak spectrometer
ATEQ tools for leak testing
Proof pressure test bench for determining the burst values
Nitrogen pressure test bench
Flow meter
The laboratory also develops its own testing facilities in order to reflect the customer's specific environment.
Highly automated manufacturing at Schrader Pacific Advanced Valves
Schrader Pacific Advanced Valves can employ the most cost-effective process solution for each product, with:
Wide variety of machining technologies available, including: CNC, Multispindle and High speed special machining machines
Rubber over-molding
Plastic molding
Cleaning machine
Special assembly lines with integrated control systems, including:

Leak control
Pressure calibration
Opening pressure control
Flow control
Camera control
Most Schrader Pacific Advanced Valves products are safety classified. Schrader Pacific Advanced Valves thus has extensive experience in guaranteeing 100% of both sealing and calibration levels.